What is MEDDPICC?
MEDDPICC , is a sophisticated Sales Qualification Methodology, used by 10 of the top 10 SaaS/Software players globally. It applies to any Enterprise Sales Process which is in B2B and considered as complex.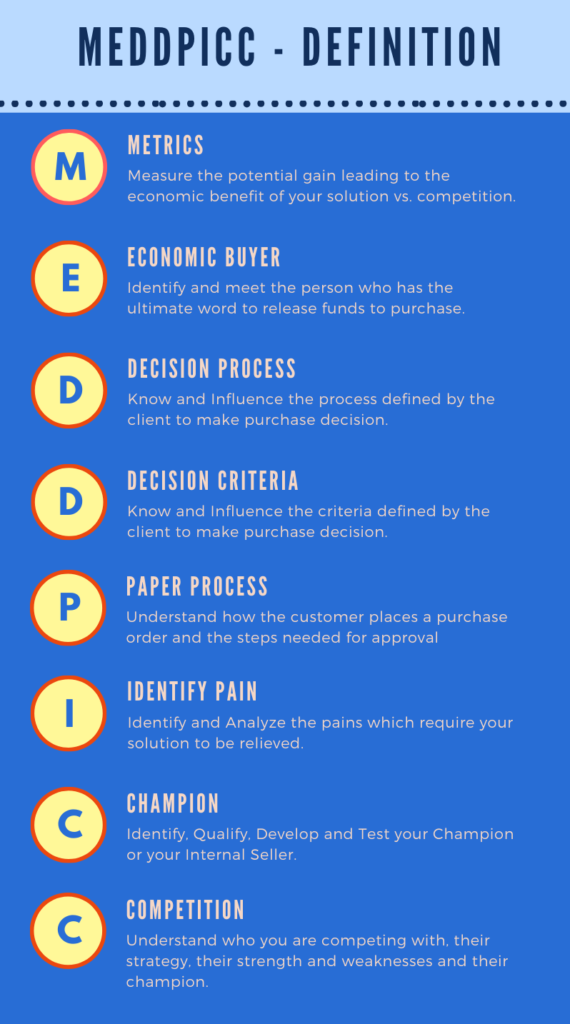 Definition of MEDDPICC?
Metrics: Leverage of the measured potential gain and their economic benefit
Economic Buyer: Interaction with the person in the account who has discretionary access to the funds
Decision Criteria: Criteria used by the customer to select the solution and the vendor
Decision Process: Process that the customer has adopted which leads the purchase decision
Paper Process: Approval process in the account through which the purchase order request needs to go, before reaching the vendor
Identify Pain: Actual pains at the company which would require your product/service to be relieved
Champion: Powerful & influential persons at the company, who are favorable to your solution
Competition: Knowledge of the competing vendors in the account, their strengths and weaknesses and their champions
The level of knowledge, control and progress of each of the above elements in a specific account is key for assessing the chance of success. These elements lead to a sharp and clear qualification of the account all along the sales cycle. The unchecked elements of the MEDDPICC CHECKLIST will help disqualify a deal early in the sales cycle or they will direct the seller to the right actions in the account which will lead to closing that deal.
What are the benefits of using the MEDDPICC Checklist?
Higher Sales Productivity since sellers will only work on deals which will close
Serves as a map to guide the seller with "what to do next"
Increases profits since no Discount is needed to win a deal, thanks to the METRICS & ROI approach
Increases revenue through sales efficiency thanks to better qualification
Improves accuracy of sales forecasts
Reduces costs thanks to early disqualifications of the deals that are not winnable
How Can We Implement the MEDDPICC Methodology Within Our Sales Force?
We train your sales force starting with as short as a 2 hours training & workshops, in-person or through the most modern methodologies; VILT (Virtual Instructor-Led Training), In-person or face-to-face training, self-paced eLearning, Blended learning and more.
What do customers say?
Check customers testimonials here.